Disclosure: Some product suggestions include links we may earn a small commission from to keep our trusted family recommendations flowing.  We only include products we love and use ourselves. View our Disclosure for more
Thanks for checking out our 'Best Gifts for Kids Who Love Hockey" Guide! From one hockey-lovin' family to another, we've rounded up our favourite products your hockey-crazed kiddos would be thrilled to receive this holiday season and beyond.  These are all items our kids use and love, and we think your family will enjoy too.
Activities
Great for replicating "One Time" passing and comes with four street hockey practice balls.  Works with all standard size street balls.  The boys love playing with this one in the garage! (Recommended for ages 7+)
Comes with both a Right + Left 20 inch ABS stick, a foam ball and an Elite NHL net.  This gets used all-year round in our basement!
(Recommended for ages 3+)
These are great for indoor play, and easy on your floors and walls!
Gear Labels
Books
Each one of these is part of our family collection and enjoyed by all our kids at story time before bed.  Little Hockey and Z is for Zamboni are great board books for the wee ones, while the others in this list are better suited for pre-K to grade schoolers.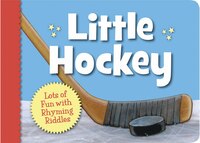 A great little board book for your smallest hockey lovers.  Easton loves this book and can easily turn the pages himself.
Hockey-themed alphabet book for early readers.  Comes in board book and paper versions.
A collection of 5 inspirational stories for impressionable young players.  The boys have two books from the Brady Brady series.
This is a fantastic story about a boy and his magic hockey skates and uncovering a hockey talent he never knew he had.  The boys got a kick out of the store at the end named "Kerr's"!  A sweet story between brothers in here too.
Follows the journey of the game from the first puck drop to the final buzzer.  A great story for bedtime.  Tyler especially loves this one 🙂
Movies
The set includes the Mighty Ducks trilogy – The Mighty Ducks, D2 The Mighty Ducks and D3 The Mighty Ducks.  Our kids love these films and parents will too.  Great display of teamwork, sportsmanship and perseverance, and inspiring young hockey players to work hard.
 (*Rating: PG)
Personalized Ornaments
Great gifts for your own children or to gift for other family members or your hockey team!  These are available from our favourite Canadian Pop Culture Christmas Store Retro Festive
Pajamas
New hockey PJs are a traditional Christmas gift in our house.  Not easy to find, but here are our faves for this year by Hatley called "Hockey in the Wild" and Moose Hockey Flapjacks by Lazy One Canada (Available in sizes 2T – 6).
---
EARN CASH WHILE YOU SHOP!

Most retailers included in this article participate in EBATES.ca – where you can shop + put money back in your pocket for holiday shopping purchasing from retailers you already love!  FREE to sign up.
Happy Shopping!